Pastor Terry "T.L." Arvie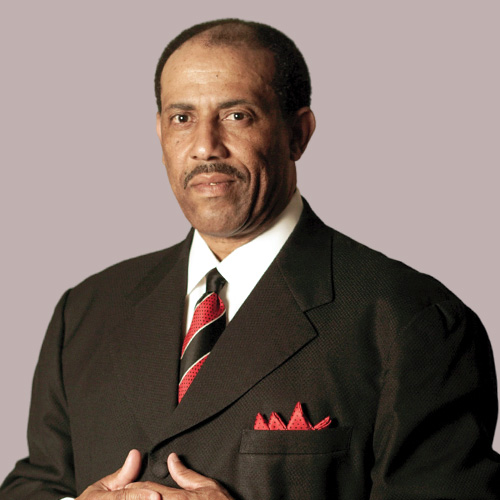 Pastor Terry "T.L." Arvie was born on October 18th, 1967 in Lake Charles, Louisiana. He is the seventh of eight children born to the late Rev. Dr. Hearnest Arvie and Mildred Arvie.

He accepted Christ at an early age and became a member of the Cathedral of Faith Baptist Church in Lake Charles, Louisiana. In his heart, Pastor Arvie received his initial call from God to preach the Word at the age of twelve but did not respond publicly to this call until December 22nd, 1985.

After graduating from Lake Charles – Boston High School in 1985, he attended McNeese State University where he received a Bachelor's Degree in Criminal Justice. Upon graduating, he worked in the Calcasieu District Attorney's Office as an investigator. Pastor Arvie also received an Honorary Doctorate of Divinity Degree from the Inter-Baptist Theological Seminary in Shreveport, Louisiana.

Through God's Divine Will, in September 1999, Pastor Arvie was called to be Pastor of the Hurricane Bluff Baptist Church in Shreveport, Louisiana. Under his pastoral vision, the church built a Family Care Deacons Ministry, the P.I.V.O.T. (Positive Impression Visitor's Outreach Team) Ministry , a Mid- Week Church School Ministry, acquired a new van for the Bus Ministry, and purchased additional land for building a new sanctuary.

After serving the Hurricane Bluff Baptist Church for over five years, Pastor Arvie knew in his heart that the Lord was calling him to "The Mount," Mount Nebo Missionary Baptist Church in Omaha, Nebraska. By the Will of God, on January 9th, 2005, Pastor Arvie officially accepted the call to become the Pastor of the Mount Nebo MBC in Omaha, Nebraska. He was officially installed as the Pastor of Mount Nebo M.B.C. on Sunday, June 5th, 2005 by the late Rev. Dr. Hearnest Arvie, the Pastor of Cathedral of Faith Baptist Church, Lake Charles, Louisiana and father to Pastor Arvie, as well as one of his mentors, the Rev. Dr. Harry Blake, Pastor Emeritus of Mount Canaan Baptist Church, Shreveport, Louisiana and Vice President of the National Baptist Convention, USA, Incorporated.

Recently, Pastor Arvie's God given Vision has led MNO in a renovation and construction project which consisted of adding new women's and men's restrooms, updates to a multi-purpose conference room, as well as administrative offices. In addition, the following projects have also been completed under the Vision of Pastor Arvie:
Update of the Church By Laws as well as the Church Constitution, bringing it into Biblical Compliance with the Word of God
Creation of email addresses for church and administrative purposes.
Design, Development, and deployment of our website
Automated Church Finances bringing the church into the 21st Century. This includes all administrative and fiscal reporting, as well as daily operational duties
Addition of an additional staff member - Financial Secretary
Implementation of the Ministry-Driven Budget
Resurrected the Christian Education Ministry and Male Chorus
Converted the Laymen's Movement and Mission Ministry to the Men's and Women's Ministries
Created the Young Matrons Ministry under the auspices of the Women's Ministry
Revamp of our Young Adult Ministry (Living Young "N" Christ), along with founding our Young Adult Choir (Anointed Praise For Christ)
The addition of seven Deacons to the Deacons Ministry, as well as the addition of several new Deaconess to the Deaconess Ministry
Upgrade of the internal sound system, complete with recording cassettes and compact discs.
Installation of a computer lab
Upgrade our technological capabilities, allowing us to livestream, along with the creation of promotional videos and graphics
Installation of 6 screens in our Sanctuary for use during worship
Upgrade & Update of Pulpit Furniture
Renovation of the Pulpit area in the Sanctuary
Pastor Arvie has also introduced several new ministries to MNO:
Media Ministry
P.I.V.O.T. Ministry
Drama and Dance ministries
Scholarship Ministry, which oversees the awarding of the John H. Whittington Memorial Scholarship
Clothing, Website, and Health Ministries
Bereavement Ministry for members of Mount Nebo M.B.C. who have lost loved ones
Security Ministry for the safety and protection of the Pastor and Congregation
Since his arrival in Omaha, Pastor Arvie has been elected President of the Baptist Pastors and Ministers Conference of Omaha and Vicinity, Incorporated. He has also held the office of Second Vice-President of the New Era Baptist State Congress of Christian Education, and is currently First Vice President of The New Era Baptist State Convention of Nebraska, Incorporated. On the National level, he is also a Board Member At - Large for the National Baptist Convention U.S.A., Inc.

Pastor Arvie is married to the former Pamela Walker and they are the parents of six children: Krysten, Jennifer, Taylor, Terry II, Ra'Daniel, and Abigail, as well as the grandparents of Amayah and Parnell III, and Layla.